About Waterford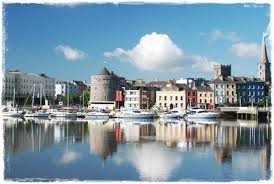 Waterford (Irish: Port Láirge, meaning "Lárag's port") is a city in the south-east of Ireland. It is the oldest city in the country. Currently, about 46,500 people are living in Waterford. It takes about two hours to get there by car from Dublin Airport. Waterford is the capital of County Waterford, which is administrated by the Waterford City and County Council. The city is the site of many businesses, although some had to close during the 2008 recession.
Waterford was founded by the Vikings in the 9th century. In the 12th century, the city was incorporated into the kingdom of England and was granted the status of a royal city. During the Protestant Reformation, Waterford remained a Catholic city and was ruled by an independent Irish government in Kilkenny. In 1650, the troops of Oliver Cromwell took the city back after a long siege.
In the 18th and 19th century, Waterford became very wealthy and the industry of the city flourished. In that time, the glass making and ship building industries were very important. When Ireland gained its independence Waterford became part of that newly created state.
The city consists of a beautiful and old city centre, also known as the Viking Triangle, which is the cultural quarter of the city. Part of the centre has been pedestrianised and is now a commercial area.
One of the most famous sites in Waterford is the House of Waterford Crystal, the headquarters of a world-famous glass manufacturer. It is located right in the city centre and offers guided tours of the factory. Waterford Crystal is very popular with tourists! Another interesting place is the Waterford Museum of Treasures. Here you can learn some facts about the history of Waterford.
Other historic sites in Waterford are Reginald's Tower (from the 9th century), the City Walls, of which some remains still can be seen, the Christ Church Cathedral, the Bishop's Palace and the City Hall. There are several places to visit in the city surroundings, for example Tramore, a beach town.