About Clonmel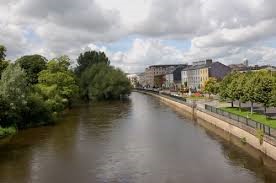 Clonmel (Irish: Cluain Meala, meaning "honey meadow") is the county town of South Tipperary in Ireland. It is the largest town in the county. While the borough had a population of 15,482 in 2006, another 1526 people were in the rural environs of Clonmel comprising Marlfield, Ardgeeha Upper (Cashel Rd), Boherduff (Fethard Rd) in County Tipperary and in County Waterford the area between the Dungarvan Rd and Mountain Rd. The town is noted in Irish history for its resistance to the Cromwellian army which sacked both Drogheda and Wexford. It is in the former barony of Iffa and Offa East.
Under a charter granted by James I of England, Clonmel became a Free Borough on 5 July 1608, and the Mayor and officers of the town were granted power to "name, elect and constitute one Swordbearer and three Sergeants-at-Mace". The present sword and two silver maces date only from Cromwellian times. The sword, of Toledo manufacture, was donated by Sir Thomas Stanley in 1656 and displays the Arms and motto of the town. The larger mace is stamped 1663.
Oliver Cromwell, who is infamous in Ireland, laid siege to Clonmel in May 1650 during his campaign in Ireland. The walls were eventually breached, but Hugh Dubh O'Neill, the commander of the town's garrison, inflicted heavy losses on the New Model Army when they tried to storm the breach. That night, O'Neill, deciding that further resistance was hopeless due to a lack of ammunition, led his soldiers and camp followers out of the town under cover of darkness.
The story is told that Cromwell became suspicious of O'Neill's desperate situation when a silver bullet was discharged by the townspeople at his troops outside the walls. The following morning, 18 May 1650, mayor John White was able to surrender the town on good terms as Cromwell was still unaware of the garrison's escape just hours before. Although feeling deceived, he did not put the inhabitants 'to the sword' as occurred elsewhere.